Updated By: LatestGKGS Desk
World Milk Day Celebrated On 1st June 2018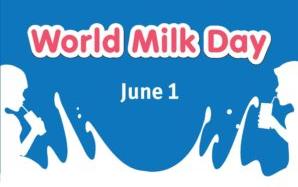 World Milk Day Celebrated On 1st June 2018-Theme, Purpose, History
World Milk Day is celebrated on 1st June all across the world to increase the common public awareness about all feature of the natural milk such as its natural origin, milk nutritional value and various milk products including its economic importance throughout the globe.
World Milk Day celebration was started by the UN Food and Agri)culture Organization (FAO in the year 2001 to encourage common social public about the milk and dairy products consumption as their daily diet.
World Milk Day aims to celebrate the important contributions of the dairy sector to Good food, health and nutrition, Farmers caring responsibly for their communities, the land and their animals and How dairy contributes to economic development and livelihood.
As far as the theme of the World Milk Day is concerned, each country around the world chose their own theme every year.
In India, 26 November is being observed as National Milk Day (NMD) to mark the importance of milk and birth anniversary of Father of the White Revolution Dr.Verghese Kurien.
About Milk
Milk is one of the most important food items in our daily diet. Milk is considered to be a wholesome food product as far as its nutrients value is concerned.
Milk contains almost all the important nutrients our body requires such as calcium, potassium, protein, iodine, vitamins B2 and B12 etc.