Universal Postal Union Anniversary 9th October Celebration as World Post Day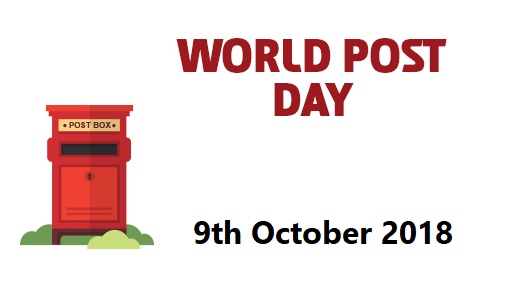 Universal Postal Union (UPU) World Post Day 9th October Celebration in India History, Features, Pincode History, Post Offices
The Post Office has been the most reliable, easy and cheapest way to deliver information to nation-to-country .
9 October is celebrated as World Post Day. In the year 1874, 22 countries had signed an agreement in Switzerland's capital Bern to set up the Universal Postal Union (UPU).
India was the first Asian country to become a member of the Universal Postal Union on 1st July 1876. In 1947, after the formation of the United Nations Union.
The postal department receives home advantage of 82 percent of the global population. A postal service provides service to 1,258 average population. At present 55 types of postal e-services are available worldwide. The post has kept 77 per cent online services.
133 Post provides financial services. Within the five-day standard time, 83.62 percent international postal content is distributed.
Postal codes are available in 142 countries. 160 countries postal services use UPU's international postal system software for electronic management and monitoring of postal mails.
Pincode number was started on 15 August 1972.
India Post Payment Bank has started banking services in 650 branches of the country and 3250 access points across the country on 1st September . In the coming days, this service will start at 1.55 lakh access points in the country.