Updated By: LatestGKGS Desk
World Sight Day 2021: Theme, Significance, History, Detail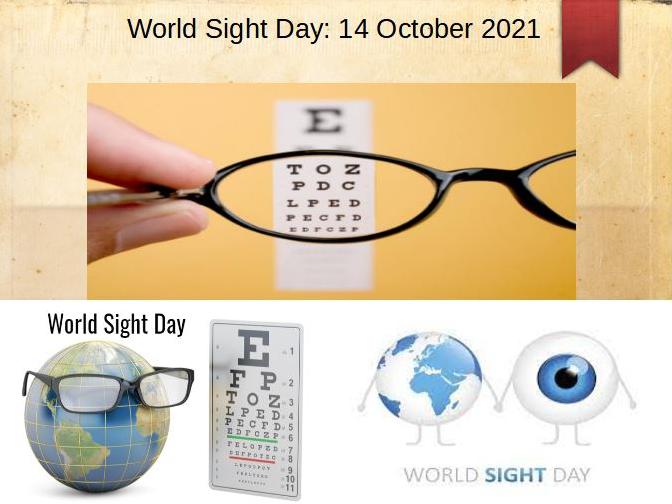 World Sight Day, 2021
World Sight Day is a global awareness day observed every year on 14 October to draw attention to vision impairment, including blindness.
At least 1 billion people worldwide suffer from near- or far-sightedness that could be avoided or is yet unaddressed. People of various ages are affected by vision impairment, with the majority being over the age of 50. All aspects of life, including everyday personal activities, engaging with the community, education and career opportunities, and the capacity to use public services, can be significantly impacted by vision impairment and blindness.
The most common causes of vision impairment are untreated cataracts and uncorrected refractive errors. Other factors, like age-related macular degeneration, glaucoma, diabetic retinopathy, infectious eye illnesses, and trauma, can't be overlooked and must be handled.
The Member States recently adopted two new global eye care targets for 2030 at the 74th World Health Assembly: a 40% increase in effective coverage of refractive defects and a 30% increase in effective coverage of cataract surgery. These goals will be critical in not only expanding global eye care coverage, but also providing high-quality services in the future.
Theme of The World Sight Day
The theme for this year's World Sight Day is 'Love Your Eyes'
History Of The Day
On October 8, 1998, Lions Clubs International united with blindness prevention organizations around the world to observe the first World Sight Day.
The WHO and the IAPB collaborated on this endeavor. Non-governmental organizations, professional associations, eye-care institutes, and corporations are all involved.