Gujarat Govt Unveils Intensive Care Project Of Rs 351 Crores To Conserve Gir Lions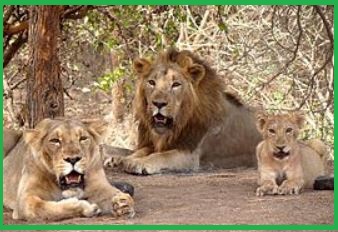 Gujarat Government Unveiled Intensive Care Project Of Rs 351 Crores To Conserve Gir Lions: Details, Aim, Highlights
Gujarat Government has unveiled an intensive care project of worth Rs 351 crores for the conservation of the Gir lions.
This project is launched in the backdrop of the Canine Distemper Virus (CDV) outbreak that claimed 23 Asiatic lions lives in their only dwelling Gir National park in Saurashtra.
Canine distemper or 'hard pad' is a viral disease that affects a wide variety of animal families, including domestic and wild species of dogs, coyotes, foxes, pandas, wolves, ferrets, skunks, raccoons, and large cats, as well as pinnipeds, some primates, and a variety of other species.
The project includes an emergency ambulance van akin to the 108 emergency services. It will also have a 'state of the art' veterinary hospital at an allocation of Rs 50 crore in Sasan Gir region.
This veterinary hospital will be assisted by a special veterinary cadre of 120 personnel for the conservation of lions. Also, Eight modern rescue centers will be established at Rs 85 crores.
Under the project, the movements of nocturnal animals like the lions and others wild animals will be tracked through closed-circuit television cameras (CCTV) and camera-mounted drones.
Besides, plans are proposed on the lines of E-eye, which has been successful in the Corbett National Park.

E-eye is a 24/7 all-weather large-scale intelligent technology, capable of providing live-feed wildlife supervision in vulnerable areas and sanctuary perimeters, collecting and interpreting wildlife crime data to alert law enforcement before violations occur.