UDAN Scheme: Arunachal Pradesh First Commercial Flight Lands At Pasighat Airport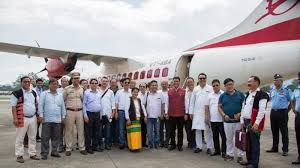 UDAN Scheme: Arunachal Pradesh First Commercial Flight Lands At Pasighat Airport
The first commercial flight of Arunachal Pradesh under UDAN scheme was landed at Pasighat airport or Advance Landing Ground (ALG) in East Siang district. This historic moment puts the Arunachal Pradesh state on the aviation map of India.
Arunachal Pradesh, Chief Minister Pema Khandu among 25 passengers on board, landed Pasighat on a commercial flight of 42-seater ATR aircraft of the Alliance Airlines.
Alliance Air, a subsidiary of Air India, will operate flight services on Kolkata-Guwahati-Pasighat route thrice a week as on Tuesday, Thursday and Saturday.
Pasighat airport is on advance landing ground or ALG, meant to support operations of small aircraft and some military planes.
This commercial flight connectivity opens up new vistas of economic development in the region and also provides ample opportunities for the tourism industry of the state as it removes connectivity bottleneck faced by bordering state earlier.
BACKGROUND
Arunachal Pradesh has some 120 helipads and 10 advanced landing grounds, built for defence as well as civil operations.
Under UDAN scheme, eight locations in border state have been selected by bidders. Out of which Pasighat and Tezu have been selected for fixed wing. Ziro, Daporijo, Itanagar, Tuting, Wallong and Yingkiong have been selected for helicopter services.