Today in History, October 30th GK, Events, Birthday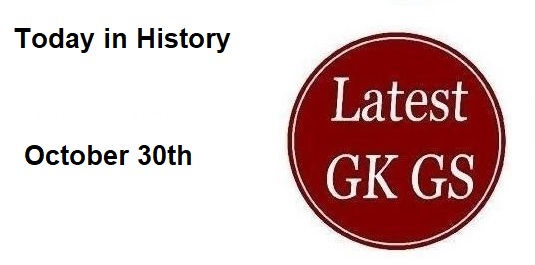 On 30th October, the details of other important events recorded in the history of the world
In the history of 30 October in Assam, one of the bombings in Assam is lodged with the tragic incident of the blasts.
These powerful blasts shook the entire country on October 30, 2008, at the capital, Guwahati and 13 other places.
This quiet and green area of the country was scorched by the scars of the blasts.
Three places in Kokrajad district of the state, five places in Guwahati, three in Bongaigaon and two places in Barpeta.
On 30th October, the details of other important events recorded in the history of the world are as follows: -1485: Henry Tudor was made King of England.
Henry Tudor, who was recognized as Henry VII, founded the Tudor dynasty and tried several ways to expand the power of England.
1961: Russia Exploded in the hydrogen bomb, which had a raging reaction across the world.
1974: Mohammad Ali defeats George Foreman to win World Heavyweight Boxing title.
1991: US President George Bush calls on the Arab world and Israel to forget their past during their historic speech at the West Asia Peace Conference in Spain, and call on the path of peace.
2008: Deaths of more than 66 people in several bomb blasts in several parts of Assam, including Guwahati.