Updated By: LatestGKGS Desk
3rd Dwijing Festival begins on bank of Aye river at Chirang district of Assam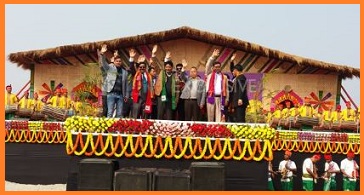 3rd Dwijing Festival started on the bank of Aye river at Chirang district of Assam: Details, Celebrations, Significance, Highlights
The 3rd edition of Dwijing Festival has started on 27th December 2018, on the bank of River Aie at Chirang district, Assam.
Dwijing Festival is the third edition of the festival. The festival was inaugurated by the Public Health Engineering Minister of Assam, Rihon Daimary. About 15 lakh tourists are expected to participate in the festival.
About Dwijing Festival
Dwijing Festival is an annual river festival celebrated in the Bodoland Territorial Area Districts (BTAD) region of Assam with various colorful events viz. ethnic trade and food festival, exhibition, games & sports, river campaign & adventure and various culture programs to make it a centre of attraction for the visitors as a New Year Festival.
Dwijing Festival provides a platform of earning for the people in the region by putting in to focus the business activities for the better economy generation through rural tourism. The festival also aims to provide help to the flood victim families through charity generation and distribution.
River Aye
River Aye also known as "Mother" originates from the Himalayan Mountains of Bhutan and flows through the Chirang and Bongaigaon districts of Assam before joining the river Brahmaputra.
River Aye is the lifeline of the region as about 30000 families in the region are dependent on the river for their daily livelihoods through Crops, Fishing, Stone & Sand Collection and many other activities.