Updated By: LatestGKGS Desk
Manipur Sangai Tourism Festival Begins in Manipur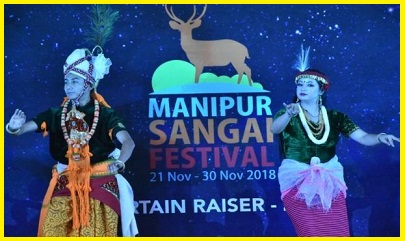 Manipur Sangai Tourism Festival Begins in Manipur: Details, Aim, Celebrations, Event Highlights
MANIPUR SANGAI FESTIVAL-2018 organsed by Manipur Tourism kicked off in Manipur, on 21st November 2018. It is scheduled to be held from 21st November to 30th November 2018.
The annual Manipur Sangai Festival is the grandest festival of state named after state animal, Sangai, the critically endangered brow-antlered deer found only in Manipur.
The Manipur Sangai Festival aims to promote Manipur as a world-class tourism destination. It was inaugurated by Union Minister of Defence Nirmala Sitharaman at Hapta Kangjeibung, Imphal East district on 21st November 2018.
About Manipur Sangai Tourism Festival
Manipur Sangai Festival is an annual event that was started in 2010 and has grown over years into a big platform for Manipur to showcase its rich tradition and culture to the world.
Manipur Sangai Festival showcases tourism potential of Manipur in the field of arts & culture, handloom, handicrafts, indigenous sports, cuisine, music and adventure sports of state etc.
Manipur Sangai Festival chiefly focuses reflect Manipur's rich cultural heritage and the art of various tribes inhabiting the state. It also showcases 'Ras Leela', state's classical dance form along with various other folk dance performances like Bamboo dance, Maibi dance, Kabui Naga dance, Lai Haraoba dance, Khamba Thoibi dance etc.
Indigenous sports such as martial arts- Thang Ta (a combination Spear and Sword skills), Mukna Kangjei (a game that combines hockey and wrestling), Yubi-Lakpi (game played with greased coconut like rugby) and Sagol Kangjei- Modern Polo (believed to have evolved in Manipur) will be also showcased festival.
Sangai Deer is a (Rucervus eldii) also called the Dancing Deer. It is the state animal of Manipur.