Updated By: LatestGKGS Desk
PM Narendra Modi Webinar on Atmanirbhar Bharat in Defence Manufacturing 27-08-2020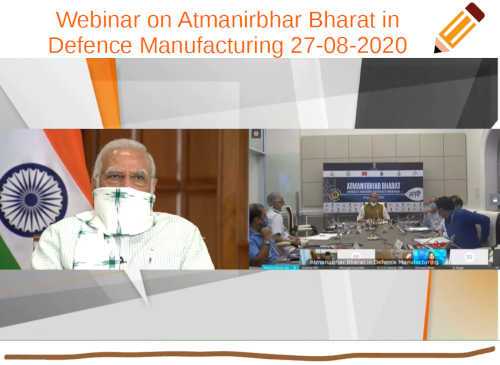 Prime Minister Narendra Modi Webinar on Defence Manufacturing Sector Atmanirbhar Bharat on Thursday, 27th August 2020
The Prime Minister Shri Narendra Modi addressed the webinar on Atmanirbhar Bharat in Defence Manufacturing today on Thursday, 27th August 2020. PM Narendra Modi stressed to give significant roles to private players in the defence sector.
Prime Minister Narendra Modi complimented Defence Minister Shri Rajnath Singh and his entire team for the commendable steps towards making of Atmanirbhar Bharat.
Prime Minister talked about the resources and potential in India to become Atmanirbhar in Defence Sector in coming years.
PM remarked decisions such as the appointment of CDS, which were pending for decades have been taken now, which reflects the confidence of New India.
PM highlighted that opening of defence sector by permitting 74% FDI (Foreign Direct Investment) via automatic route reflects the confidence of new India.
According to PM Corporatization of Ordnance factories will strengthen both the workers and the Defence sector.
Prime Minister also emphasized on the need for up-gradation of technology self-sufficient modern equipment.
According to PM Modi, his government is working on the mantra of Reform, Perform, and Transform.
The Prime Minister said major reforms are underway in areas of Intellectual Property, Taxation, Insolvency and Bankruptcy, Space and Atomic Energy.
On the infrastructure initiatives, the Prime Minister spoke about two defense corridors underway in Uttar Pradesh and Tamil Nadu.
Prime Minister Narendra Modi concluded the webinar with a call for collective efforts to become self-reliant, (to become an Atmanirbhar Bharat).