GK Questions 13th August 2019 General Knowledge, Current Affairs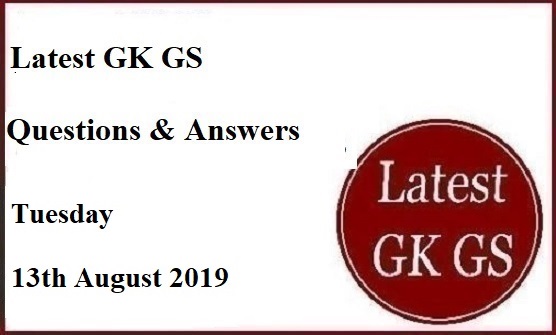 Daily GK Questions Tuesday 13th August 2019 General Knowledge, Current Affairs
1. When was PM Modi Man vs Wild episode with Bear Grylls got telecasted?
Ans. 12th August 2019

2. Who became Interim President of Congress Party?
3. Which company would be acquiring a 20 percent stake in Reliance's oil refinery and chemical business?
4. What was the theme of International Youth Day 2019?
5. Which ministry recently approved childcare leave in case of when a male is a single parent?
6. Which film won the national film award 2019 for "Best Film"?
Ans: Hellaro
7. Name the book based on M. Venkaiah Naidu's two years as Vice President of India?
Ans: Listening, Learning, and Leading

8. Which state government launched 'Mukhyamantri Madad Yojana' to provide assistance on the birth of a child and death of a family member in a tribal family?
Ans: Madhya Pradesh
9. NITI Aayog recently launched the fourth edition of Women Transforming India Awards in which city?
Ans: Delhi
10. When is the International Youth Day celebrated every year?
Ans: 12th August
11. What is the name of the father of ISRO, on whose 100th birthday, Google has dedicated a doodle?
Ans: Dr. Vikram Sarabhai