GK Questions 11th August 2019 General Knowledge, Current Affairs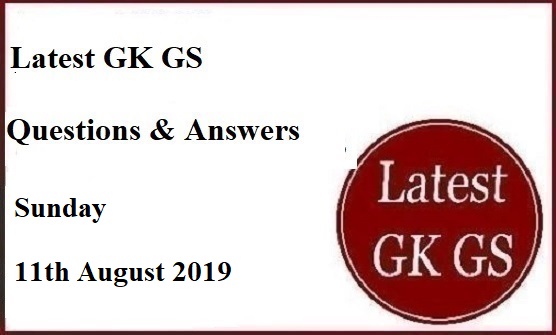 Daily GK Questions Sunday 11th August 2019 General Knowledge, Current Affairs
1. Who became the First Deputy Governor of Jammu and Kashmir?
Ans. K Vijay Kumar
2. Who became Interim President of Congress Party?
3. Which government body launches 4th edition of Women Transforming India Awards?
4. Which Indian Wrestler wins gold at Tbilisi Grand Prix,?
5. When was the World Biofuel Day 2019 observed in India?
6. Which Chinese Telecom company unveils its own Operating System 'HarmonyOS'?
Ans: Huawei

7. HRD Ministry launched which drive for water conservation in schools?
Ans: Samagra Shiksha-Jal Suraksha Drive
8. Which Indian state topped the Breastfeeding, Infant & Young Child Feeding Practices in India?
Ans: Manipur
9. India recently signed which international convention on mediation??
Ans: United Nations Convention on International Settlement Agreements (UNISA)
10. Name of four states where Inter-State portability of ration cards got implemented?
Ans: Andhra Pradesh-Telangana and Gujarat-Mumbai