NLCIL's Three 100 MW Solar Power Projects Inaugurated in Tamil Nadu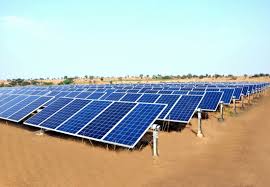 NLCIL's Three 100 MW Solar Power Projects Inaugurated in Tamil Nadu- Details, Features, Purpose
Neyveli Lignite Corporation India Limited (NLCIL)'s three 100 MW Solar Power Projects for the commercial operation were inaugurated recently. These projects are located at Thoppalaakkarai and Sethupuram in Virudhunagar District and Sellaiya Sezhiyanallur in Tirunelveli District of Tamil Nadu.
The three solar plants have installed capacity of 100 MW each. They were erected at cost of Rs.1300 crores, which includes Operation & Maintenance (O&M) cost for 15 Years. The power produced from these units will be sold to Tamil Nadu Power Generation and Distribution Company (TANGEDCO) at cost of Rs.4.41/- per unit.
About Neyveli Lignite Corporation India Limited (NLCIL)
NLCIL is navratna profit making of Central Government. It is engaged in mining of lignite and generation of power through lignite based thermal power plants. It was established in 1956, following the discovery of lignite deposits in Neyveli, Tamil Nadu. It is headquartered in Neyveli, Tamil Nadu.
NLCIL comes under administrative control of Ministry of Coal and serves as an important source of power generation to southern states of Tamil Nadu, Andhra Pradesh, Karnataka, Kerala, Telangana, Rajasthan and Puducherry (UT).
At present, NLCIL operates four open-cast lignite mines of a total capacity of 30.6 Million Tonnes per Annum (MTPA) and 5 thermal power stations with the total installed capacity of 3240 MW.