Odisha Government Signed MoU with RIMES for Effective Disaster Management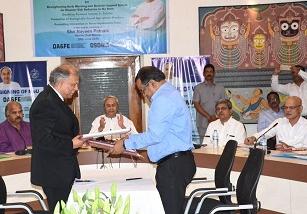 Odisha Government Signed MoU with RIMES for Effective Disaster Management- Details, Aim, purpose, Importance
Odisha Government has signed Memorandum of Understanding (MoU) with Regional Integrated Multi-Hazard Early Warning System (RIMES) on 30th June 2018 to boost effective management of all kinds of disasters. This partnership is aimed at automating risk management, advisory generation and dissemination.
Odisha State Disaster Mitigation Authority (OSDMA) and RIMES will collaborate in the field of drought monitoring and early warning for different natural disasters.
The collaborative effort aims at enhancing early warning system for effective management of all kinds of disasters like flood, drought, heat wave, lightning and road accidents in the Odisha State.
At present, the MoU will last for 5 years with cost involvement of about Rs. 8 crores. Under the MoU, efforts will be made to create open-source software platforms and public domain data sets using weather and climate information, sourced from the India Meteorological Department (IMD).
Importance
Odisha Government & RIMES collaboration will help OSDMA to engage integrated multi-hazard early warning system to strengthen its prediction and response capability.
The venture will also strengthen OSDMA for more effective management of natural disasters. It will also help in the transfer of best practices among different countries of the world in handling natural disasters.
It will also enhance warning response capacities of OSDMA by imparting specialized expert training. It will also help to develop one-stop risk management system for all OSDMA needs-integration of multiple data database/servers.