Updated By: LatestGKGS Desk
ASI unearthed 254 copper coins of medieval era at Khirki Mosque, New Delhi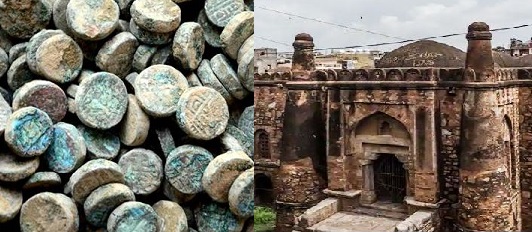 ASI unearthed 254 copper coins of the medieval era at Khirki Mosque, New Delhi: Details, Features, Significance, Highlights
The Archaeological Survey of India (ASI) has unearthed a collection of 254 Copper Coins in the area of Khirki Mosque during the course of conservation of the monument.
The Archaeological Survey of India (ASI) has been assigned with the task of cleaning the areas of Khirki Mosque to initiate its conservation. During the cleaning, a stock of 254 Coins of the medieval period was found near the entrance of the Khirki monument.
Later, when coins were delivered, immediately, a team of the archaeologist, consternation assistant and photographers came to the site and took the hoard of coins under their possession out of which Few coins got cleaned by the experts of Science of Branch of ASI and were observed, it was found that some of the coins belong to the reign of Shershah Suri and his successors.
Earlier in 2003, a stock of 63 Coins was found from the same Khirki premises during the cleaning and conservation.
Kirki Mosque
The Khirki mosque is situated on the southern periphery of the village Khirki, New Delhi.
The Khirki mosque was built by Khan-i-Jahan Junan Shah, the Prime Minister of Firoz Shah Tughluq (1351-88) and is believed to be one of the seven mosques built by him.
This Khirki mosque is built with rubble stone and is double-storeyed. Its gateways are of three sides.