Updated By: LatestGKGS Desk
Fourth India International Science Festival-2018 organised in Lucknow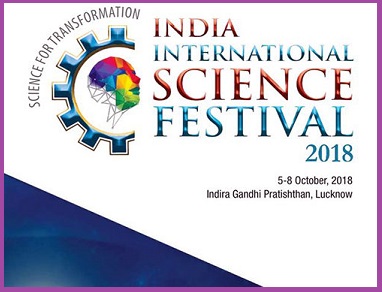 Fourth India International Science Festival-2018 organised in Lucknow: Theme, Details, Highlights
The fourth India International Science Festival 2018 (IISF 2018) was organised in Lucknow, Uttar Pradesh.
The fourth IISF-2018 was scheduled to be held from 5th October to 8th October 2018.
The fourth IISF-2018 was organised by Ministry of Science and Technology, Ministry of Earth Sciences in association with Vijnana Bharati at Indira Gandhi Pratishthan, Lucknow.
The fourth IISF-2018 theme of this Science Festival is "Science for Transformation".
This is for first time ISSF being organized in Uttar Pradesh. It was inaugurated by President Ram Nath Kovind.
The fourth IISF-2018 saw the participation of more than 8,000 delegates from across India. Also, about 800 women scientists and entrepreneurs participated in it.
About India International Science Festival (IISF)
India International Science Festival (IISF) is the biggest platform in India that brings together students, researchers, artists, and the general public to celebrate the nation's achievements in science and technology.
IISF serves as a medium to encourage young minds towards the field of science and to promote networking of stakeholders working towards the propagation of science.
The First IISF was held at Indian Institute of Technology (IIT) New Delhi in December 2015. and 3rd was held in October 2017, Chennai, Tamil Nadu.