Updated By: LatestGKGS Desk
Indo-Indonesian Bilateral Naval Exercise 'Samudra Shakti 2018' Kicks off in Indonesia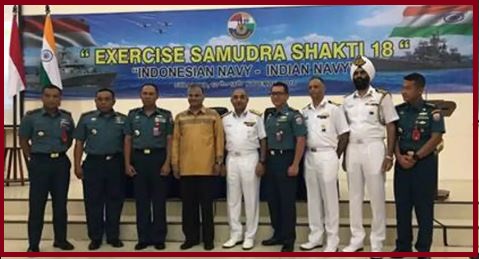 Indo-Indonesian Bilateral Naval Exercise 'Samudra Shakti' Kicks off in Indonesia: Details, Aim, Highlights
The maiden Indo-Indonesia Bilateral Naval Exercise 'Samudra Shakti 2018' kicked off at the port of Surabaya, Indonesia. It was scheduled to be held from 12th November to 18th November 2018.
The 'Samudra Shakti 2018' bilateral naval exercise is aimed at strengthening bilateral relations, expand maritime co-operation, enhance interoperability and exchange best practices of both the countries.
The Indian Naval Ship (INS) Rana of the Eastern Fleet based at Visakhapatnam under the Eastern Naval Command, which is deployed in South East Asia arrived at the port of Surabaya to participate in the exercise.
About Samudra Shakti
The 'Samudra Shakti' bilateral exercise started with Harbour Phase which encompassed planning and briefing on various activities, professional interactions, cross deck visits, sports fixtures, and social interactions.
The 'Samudra Shakti' bilateral exercise was progressed by Sea Phase which included operations such as joint maneuvers, helicopter operations, surface warfare exercise, ASW exercise, and anti-piracy exercises.
It was proposed during when the visit of Prime Minister Narendra Modi to Indonesia in May 2018, both the nations agreed to step up their defence and maritime cooperation, raising the level of their ties to a comprehensive strategic partnership.