Updated By: LatestGKGS Desk
Jharkhand State conferred with 'Krishi Karman' award in the Rice Category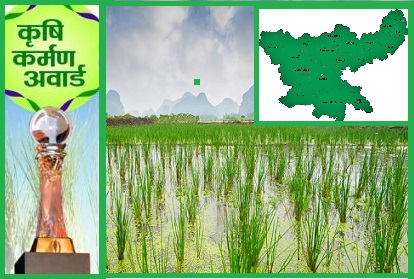 Jharkhand State conferred with 'Krishi Karman' award in the Rice Category: Details, Achievement, Highlights
Jharkhand has been selected for "Krishi Karman" award in the rice category from the Union Ministry of Agriculture. The award will be given away in February 2019.
The Krishi Karman awards carry a cash prize worth Rs 2 crore and a citation. It is being given as a gesture of appreciation to the farmers of the state for achieving the milestone.
Under it, two progressive farmers, one male and one female, would also be given 'Agriculture Minister's Krishi Karman Award.
Each farmer would be given a cash award worth Rs 2 lakh along with a citation.
About Krishi Karman Awards
Krishi Karman awards are given to Best performer States for raising India's food grain production.
Krishi Karman awards were instituted in 2010-11 for recognising the meritorious efforts of the states in foodgrains production.
Krishi Karman awards comprise of three awards for total food grain production and four awards for production of crops that constitute the food grain viz. rice, wheat, coarse cereals and pulses.
Jharkhand
Formation: 15 November 2000
Capital: Ranchi
Largest City: Jamshedpur
Official Language: Hindi
Districts: 24
Governor: Draupadi Murmu
Chief Minister: Raghubar Das (BJP)