Updated By: LatestGKGS Desk
Everest Cleaning Campaign: Nepal collects 3000 Kg of garbage from Mt Everest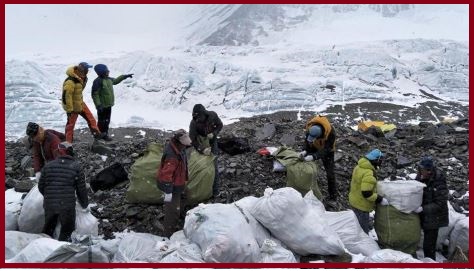 Everest Cleaning Campaign: Nepal collects 3000 Kg of garbage from Mt Everest: Details, Highlights
Nepal has collected about 3,000 kilograms of solid waste from Mount. Everest since when Nepal launched an ambitious Everest Cleaning Campaign.
The Everest Cleaning Campaign, a 45-days initiative which was launched on 14th April 2019, on Nepali New Year, and aims to clean up 'world's highest garbage dump.'
The Everest Cleaning Campaign will conclude on 29th May 2019, the day marked every year to commemorate the first summit of Everest by Edmund Hillary and Tenzing Norgay in 1953
According to the Nepal government, 2,000 kg of garbage had been sent to Okhaldhunga while the remaining 1,000 kg was brought to Kathmandu using Nepali Army helicopters for disposal.
Items left behind by climbers and Sherpas include discarded fluorescent lights, climbing and camping equipment, empty gas canisters, food packaging, beer bottles, and a huge amount of human excrement.
The collected waste will then be "showcased" in Namche town, before being ferried down to Kathmandu, where it will once again be showcased on World Environment Day on 5th June 2019.
Every year, hundreds of climbers, Sherpas, and high altitude porters make their way to Everest, leaving behind tonnes of both biodegradable and non-biodegradable waste.
Under Everest Cleaning Campaign, Nepal is trying to collect around 5,000-kg of garbage from Base Camp area, while 2,000-kg of garbage will be collected from the South Col region and around 3,000-kg will be collected from Camp II and Camp III area.