Updated By: LatestGKGS Desk
Aarohi Pandit is world's 1st woman to cross Atlantic Ocean solo in LSA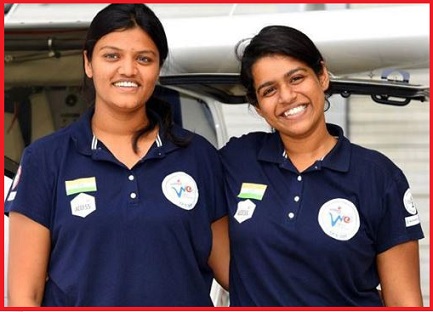 Aarohi Pandit is world's 1st woman to cross Atlantic Ocean solo in LSA: Details, Profile, Highlights
India's pilot Captain Aarohi Pandit became world's first woman to cross the Atlantic Ocean (AO) solo in a Light Sports Aircraft (LSA) named Mahi.
Aarohi Pandit (23-year-old) is a commercial pilot and LSA license holder from Mumbai, Maharashtra.
Aarohi Pandit achievement is part of her ongoing Women Empower (WE) Expedition in the tiny aircraft called 'Mahi'.
Aarohi Pandit with her friend Captain Keithair Misquitta flew over Rajasthan, Gujarat, Punjab, and then to Pakistan, where they landed as well. This makes it first civilian LSA flight to land in neighboring country since 1947. Then they went onto to Iran, Turkey, Serbia, Slovenia, Germany, France and the UK.
Aarohi Pandit en route her solo journey, she has set another world record as first woman pilot to fly solo in an LSA above treacherous Greenland ice-cap. She is also due for several other records by the time she will reach India.
Aarohi Pandit took-off from Wick, Scotland (United Kingdom), with brief stopovers in Greenland and Iceland and continued journey under adverse and extreme weather conditions. After an exhausting 3,000 km long flight she landed her tiny aircraft at Iqaluit Airport in Canada.
After a short stop in Canada, Women Empower (WE) Expedition will continue with Aarohi flying westwards towards Russia. After clocking a flight of about 37,000 km she is scheduled to return home by 30 July 2019.
Women Empower (WE) Expedition
Women Empower (WE) Expedition was one year-long global circumnavigation flight was launched with her friend Captain Keithair Misquitta on 30 July and both began their trip in August 2018. According to which she continued solo from the UK to Canada, and will return to India with her friend by July 30 this year.
The expedition is organized and sponsored by Social Access, a not-for-profit communications firm.