Updated By: LatestGKGS Desk
Sir Chhotu Ram Profile, Early Life, Education, Struggle, Achievements, Awards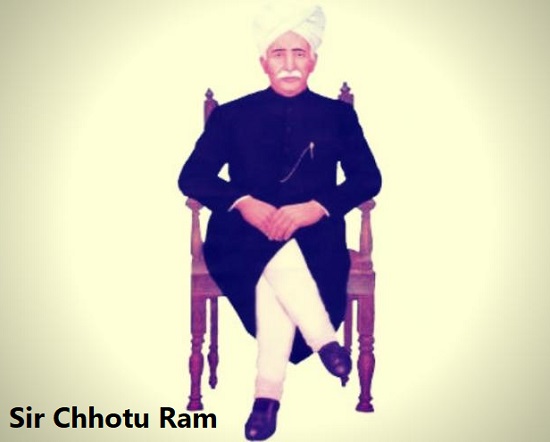 Deenbandhu Chhotu Ram Biography, Profile, Early Life, Education, Role in Freedom Struggle, Achievements, Awards
Deenbandhu Chhotu Ram was born on November 24, 1881, in a very small family of Rohtak, a small village in Ghadhi Sampala. Chhotu Ram's real name was Ray Rachpal. Due to being the smallest of the brothers, he used to call them family members as Chhotu.
Later in the school, he was named Chhotu Ram. His grandfather Ramratna had 10 acres of barren land.
In 1891, Deenbandhu Chhotu Ram received primary education in the middle school, Jhajjar, 12 miles away from his village. After this, he joined the Christian Mission School, Delhi.
After this, the revolutionary youth inside Deenbandhichoram awake. Chhotu Ram started standing in front of every injustice.
Chhotu Ram took the first strike against the charge of Christian mission school in charge of any case.
After the strike, Chhotu Ram was called in the name of 'General Robert' in school. After passing the Intermediate examination in 1903, Chhotu Ram obtained a degree in graduation from the prestigious St. Stephen's College in 1905.
In 1905, Deenbandhu Chhotu Ram served as the co-private secretary of King Rampal Singh of Kalaakankar, and herein 1907, he edited the English newspaper of English.
Chhotu Ram came to a degree of advocacy in Agra. He later became superintendent of the Jat Hostel of Agra in 1911. In 1911, he received a degree in law. In 1912, he started practicing with Chaudhary Lalchand and formed Jat Sabha in that year.
PM Narendra Modi unveiled the statue of Jat farmers' Messiah Deenbandhu Chhotu Ram in Sambalpur Rohtak District, Haryana on 9th October 2018.