The theory of Isostasy: critical analysis, procedure, features of isostasy, details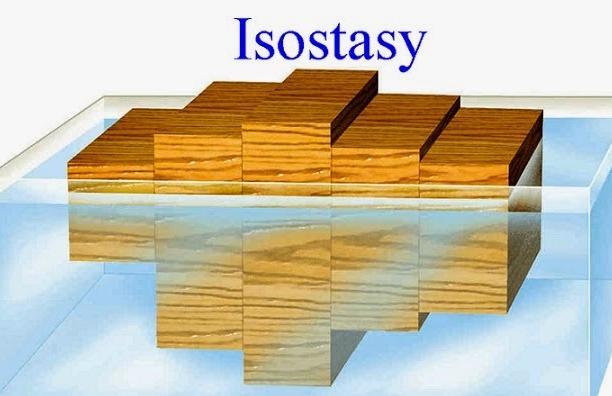 The concept of Isostasy and balance of the earth
1- The term "Isostasy" is derived from "Isostasios", a word of Greek language meaning the state of being in balance.
2- The center of gravity with a smaller stick will be nearer to your holding hand in comparison to the long stick. In the same way, smaller surface features like plains are more stable than the tall mountains.
3- The crustal layer is uniform in terms of density with varying length of columns. Therefore, those columns are projecting down into the asthenosphere depending upon the proportions of the column.
It is due to this reason that the root has developed or the sima has been displaced from below.
To prove this concept, Airy took an example of wooden blocks of various sizes and immersed them in water.
All blocks are of the same density. They get immersed differently in proportion to their sizes.
In the same way, higher features with great height seen on the surface of the earth have deeper roots whereas short in length has shorter roots beneath.
It is the concept of root which is sustaining the higher elevation. He is of the opinion that the landmasses are floating like a boat in the substratum (magmatic asthenosphere).
It is quite apparent that there is no complete isostatic balance over the globe. The earth is unstable.
Endogenetic forces often disturb the crustal balance.
The regular earthquakes and volcanic eruptions along a particular belt do not signify any balance but a sort of adjustment is needed continuously.
Endogenetic forces and their tectonic effects are the causes of imbalance on the surface but nature always tries to make an isostatic adjustment with itself.
Exogenetic forces are trying to eliminate the differences on the surface of the earth and in this process they are peeling off, transporting down to far-flung places, and depositing them.
In this process, isostatic balance is maintained by the underneath flowage of material by subsidence at the place of deposition and upliftment at the peeling of place in their proportion to the denudation.