Updated By: LatestGKGS Desk
Indian Tea Recorded Highest Ever Production In 2017-2018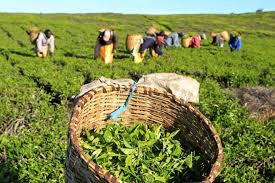 Indian Tea Recorded Highest Ever Production In 2017-2018
Indian tea industry has recorded the highest ever production as well as exports in the financial year 2017-2018.
India's total tea production was 1325.05 million kgs, an increase of 74.56 million Kilograms as compared to 2016-17. In percentage terms, the increase was around 6%. Similarly, the total quantity of tea exported during the financial year 2017-18 stood at 256.57 million kgs, while the foreign exchange realised from exports of Indian tea was $ 785.92 million.
Indian quantity of tea exports increased by 12.71% to 28.94 million kgs during 2017-18 as compared to the corresponding period last year, while the revenue earned from exports saw a rise of $ 95.19 million (13.78%).
India's earlier record for the highest quantity of tea exports was during the financial year 1976-77 when the total quantity exported was 242.42 million kgs.
According to Tea Board India, in monetary terms, total exports in the calendar year 2017 were at Rs 4,987.59 crore, up by 11.63 percent from Rs 4,468.11 crore in 2016.