Updated By: LatestGKGS Desk
Indian archaeological survey finds 254 medieval coins from window mosque campus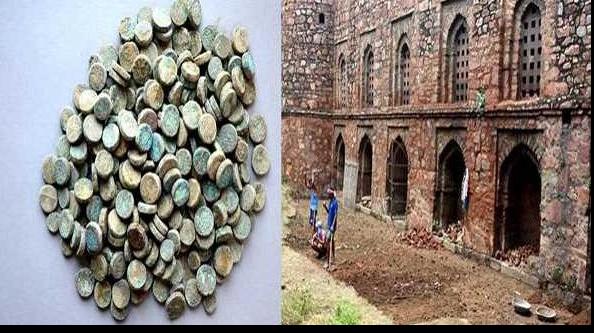 ASI finds medieval coins to be in the ownership of Sher Shah Suri and his successors
The Indian Archaeological Survey (Delhi Circle), working under the Ministry of Culture, has found a treasure of 254 copper coins from the premises of the window mosque. At that time the work of preserving the mosque was in progress.
This mosque is located at the southern end of the window village of New Delhi. The mosque was constructed by Feroz Shah Tughlaq (1351-88) by Prime Minister Khan-i-Jahan Junan Shah. It is believed that this mosque is one of the 7 mosques built by them.
ASI started cleaning the area to protect the window mosque. During the cleaning, he found a treasure of 254 copper coins of medieval India near the entrance to the mosque.
A team of nightclothesmen, conservation assistants and photographers reached the site immediately and took the coins in their possession.
Scientists of ASI have cleared some coins. Based on the initial investigation it can be said that these coins belong to the rule of Sher Shah Suri and his successors.
The coins received by the ASI were found in a clay pit.
Coins are on both sides, possibly in Arabic or Persian languages. What does that mean, it does not know right now.
In ancient times, all coins used to be of the same size and weight, the size and weight of these coins are also different. Their value is yet to be judged.
It is notable that in 2003, 63 coins were received during the cleaning and conservation of the same complex.
Delhi Circle has started the scientific cleaning of the field under the technical supervision of archaeologists. After cleansing the coins, the process of reading the written communication with them will be started with the help of experts.