Updated By: LatestGKGS Desk
India France Rafale deal Features, History, Controversy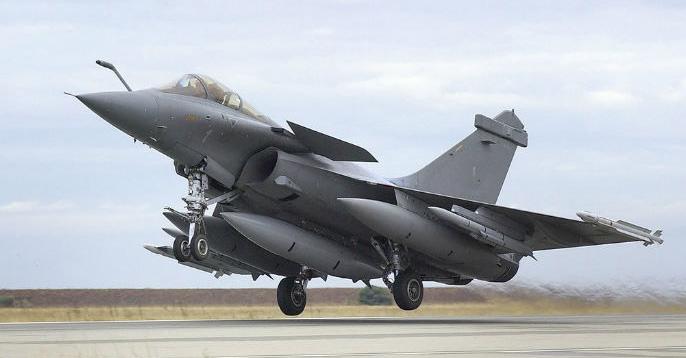 Rafale deal b/w India and France and major fighter jet deals of India
1996: India's last fighter jet deal
In one of the costliest defense deals, India signs a deal with Russia for Russian Su-30 MKI fighter jets to be procured in five batches. The deal costs India approximately 1.46 billion USD. The Sukhois are the last fighter jets to be bought by India till date.
2001: India's jet fails to inspire hope
On 4 January 2001, the indigenous Light Combat Aircraft 'Tejas' completes its first flight, but it's clear that the project is nowhere near completion. Meanwhile, the aging MiG 21 fleet's shelf life is drawing closer and the IAF begins its search for a new multi-role fighter.
2007: Two jets make the cut
Tenders for 126 Medium Multi-Role Combat Aircraft (MMRCA) fighters are issued by India in 2007. The competition is between the French Rafale, Russia's MIG-35, the Swedish Saab JAS-39 Gripen, American Lockheed Martin's F-16, the Boeing F/A-18 Super Hornet and Eurofighter Typhoon.
Only the Rafale and Typhoon make the cut.
2012: A winner emerges
Five years after the tenders were issued, Dassault emerges as the lowest bidder. Of the 126 jets required, 18 fighters are to be imported "in a fly-away condition"(i.e. having readied completion). Hindustan Aeronautics Ltd (HAL) will manufacture the remaining 108 jets with technological assistance from Dassault.
However, India and France are unable to decide on a price for the jets.
2014: The deal stalls
The workshare agreement between HAL and Dassault Aviation is signed on 13 March 2014. But with the BJP-led NDA government coming to power, clarity on the progress of the deal remains unclear.
New Defence Minister Arun Jaitley says that a 'considered decision' will be taken. Dassault's competitor Eurofighter Typhoon makes a last-ditch attempt by offering a 20 percent cut in price.
2015: A new deal is signed
Narendra Modi visits Paris in April 2015, and India announces its decision to buy 36 Rafale fighters via a government-to-government deal.
Defence Minister Manohar Parrikar says the previous 126 fighter jet deal is dead, and now 36 fighters will be bought after negotiations.
2016: The deal is sealed
French President François Hollande visits India in January, a memorandum of understanding on the purchase of Rafale jets is signed for $7.8 billion.