Updated By: LatestGKGS Desk
Indira Col at Karakoram Range Features, Height, History, Geographical Details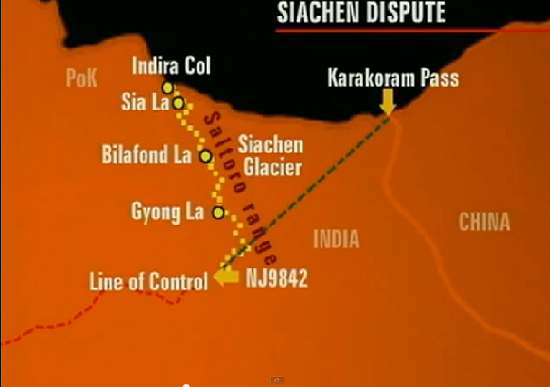 Facts about India's Indira col is located at Siachen Murtagh of Karakoram Range, Height, and History of Indira col
Indira Col is a Col (i.e. hill trail built in Cuttack) located in Indira Cutak (Indira Ridge) of Siachen Mujtag subcategory of Karakoram ranges. This Sia is 3 km west of Kangri hill, which is situated on the threshold of controlled areas by India, Pakistan, and China.
Some interesting facts about Indira Col are as follows;
1. Indira Col of India is located at Siachen Murtagh of Karakoram Range at an altitude of 5,764 meters (18,911 feet). This is the point where the boundaries of India, Pakistan, and China are nearby.
2. Indira Col has no relation to Indira Gandhi, the former Prime Minister of India. The name of the eastern Indira coal point was named "Bulk Workman" in 1912 in the name of one of the names of Goddess Lakshmi.
3. Colonel Narendra "Bull" Kumar had reached West Indira Col in 1981 while Harish Kapadia reached this coalition in 1998.
4. Pakistan and India both claim the land on the land situated in the south of Cole but India is controlled by this area. In the north of Indira Cole, the land is part of Trans-Karakoram Tract, on which there was an agreement between Pakistan and China under the 1963 Border Agreement. China is occupied by this area, but India also considers its own land on this land.
5. The distance between India's most northern point (Indira Col) and the southernmost point (Kanyakumari) is 3,065 km. is.