Updated By: LatestGKGS Desk
IWAI Ro-Ro Service between Majuli and Neemi Island in Assam Features, Specifications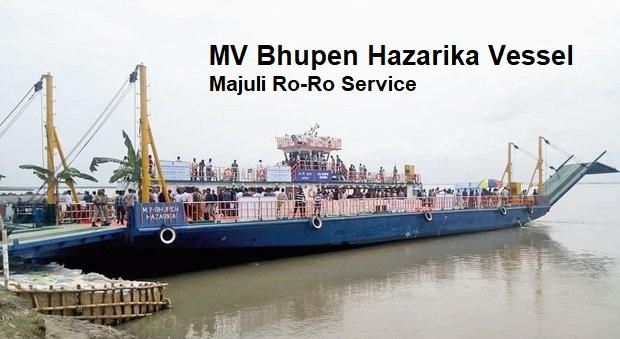 Inland Waterways Authority of India (IWAI) starts MV Bhupen Hazarika Vessel Ro-Ro Ferry Service between Neemi and Majuli island in Assam
Roll-on-roll-off (Ro-Ro) service on the island of Majuli was started jointly by the Assam Government and Indian Inland Waterways Authority (IWAI) on October 11, 2018. This ferry service has been launched for the first time in Assam.
Roll-on-roll-off (Ro-Ro) service has been started between Assam based Neemi and Majuli Island.
Indian Inland Waterways Authority has deployed the vessel MV Bhupen Hazarika for this service. Due to this Ro-Ro facility, the distance of about 421 km road has reduced to 12.7 km.
The name of the riding vessel is named MV Bhupen Hazarika. Its length is 46.5 meters and its width is 13.3 meters. This vessel has the capacity to carry eight trucks and 100 passengers from one place to another at one go.
MV Bhupen Hazarika Vessel speed is 22 kilometres per hour which are enough for the river running in the river.
MV Bhuen Hazarika Vessel has two main engines, while two other engines are reserved for the emergency situation.
Ro-Ro Ferry service refers to the type of travel service that comes with the help of which is taken from one place to another on the water route.
This is the local traveled trips. In addition to the vessels present in it, vehicles like trucks, cars, etc. travel from one place to another.