International Day for the Eradication of Poverty 17th Oct History, Features, Aim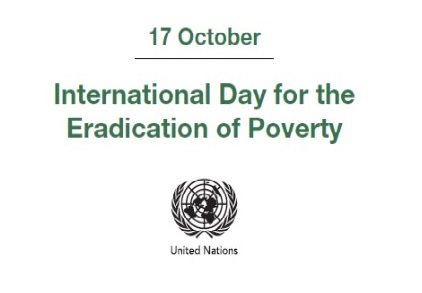 International Poverty Eradication Day 17th October History, Objectives, Theme, Aim to Spread Awareness and Increase efforts to alleviate Poverty Worldwide
International poverty eradication day was celebrated on October 17, 2018, worldwide. The main objective of this day is to increase awareness among the efforts of the world community in reducing poverty.
United Nations Secretary-General Antonio Guterres on October 15, issued the statement on the occasion of the International Poverty Alleviation Day held on October 15, urging everyone to increase the development of science-technology for poverty eradication. In order to fulfil the goal of eradicating poverty in the year 2030.
It is stated in the United Nations Sustainable Development Goal that due to different reasons, people have to be forced to live their lives in poverty due to not one particular reason. It is, therefore, necessary that the source of income and earnings are not the cause of poverty but also food, home, land, health etc. also play a role in determining poverty.
The main cause of poverty in India is increasing population, weak agriculture, corruption, conservative thinking, casteism, rich poverty, lack of job, lack of education, illiteracy, disease etc.
India is an agricultural country with a large population dependent on agriculture, today the same peasantry of the country is facing poverty. Due to poor agriculture and unemployment, people have to struggle with food shortage. That is why inflation has spread wings too.
n the year 2012, the central government said that 21.9% of India's population lives below the poverty line. World Bank's 2011 report said that purchasing power of 23.6% of India's population (approximately 276 million) per day is $ 1.25 per day. Additionally, India has been ranked 97th in the International Hunger Index released in 2016. In this, the average rate for developing countries was 21.3 and India's rate was 28.5%.