Updated By: LatestGKGS Desk
West Bengal Snake Festival Jhapan Mela History, Mythology, Features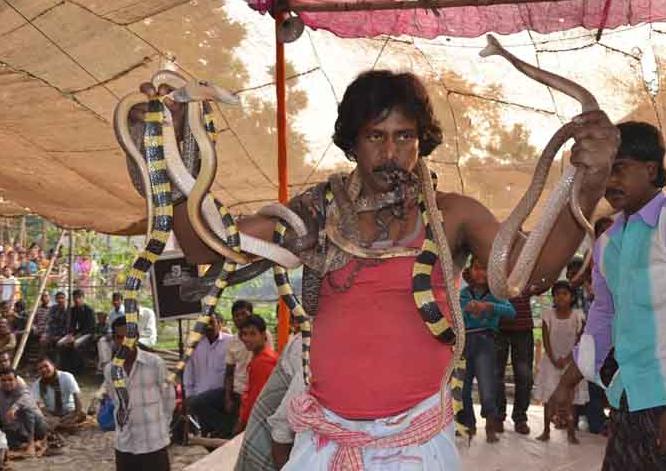 Jhapan Mela Snake Festival Celebration History, Features, Places in West Bengal
The most important Snake festival of West-Bengal is Jhapan Mela. It is celebrated in the month of Shravan Maas (July-August) at Bishnupur village in Bankura district, which is approx- 130 kilometres from Kolkata.
The monsoons cool the parched earth, the Rajbongshi tribals appear with their small round baskets, holding their precious friends. Bishnupur is a land of snakes in August and Jhapan is celebrated to honour the serpent deity, Manasa Devi.
The folk goddess of snakes is said to be the daughter of Lord Shiva and is especially popular amongst people of North and East India. According to legend Manasa Devi was said to be rejected by her father Shiva and mother, Chandi, making her a dreaded goddess, often being harsh to those who refused to worship her.
This is also a regional harvest festival for the largely agrarian community, the origin to be as far back as 17th century, when the king, Bir Hambir Malla, was greeted with joyous celebrations on his victorious return after the battle with the Huns.
On this Snake festival- Jhapan Mela, the devotees, especially women observe a strict fast and offer milk to snakes in their religious vicinities or the temples nearby.
This is one of the renowned Snake festivals of West-Bengal, cheerfully admired among the local tribe residents and has an agrarian-tribal origin. Local snake-charmers- Jhampanias fetched numerous varieties of snakes and serpents in and around Kolkata villages, especially- Bishnupur to play wisely with the tricks to outwit these reptiles such as- cobras, pythons, vipers and more.