Nag Panchami Celebration History, Story, Mythology, Religion, Timing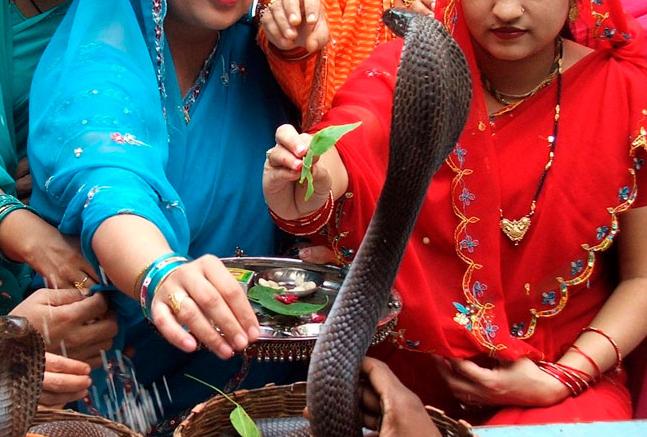 Snake Festival Nag Panchami Celebration History, Mythology, Religion, States, Country, Timing
Celebration On: Fifth day after Shravan Amawasya
Celebration For: Worship of Snakes
Celebration of Festival in: Kerala, Uttar Pradesh, Madhya Pradesh, Maharashtra, Karnataka, Rajasthan
Religion Worship Snakes: Hindu, Jain, Buddhism
Nag Panchami is a festival of Hindus dedicated to worship of images of serpent deities and live snakes.
The festival is celebrated on the fifth day after Amavasya or moonlit-fortnight in the holy month of Shraavana across most part of India. Nag or the Indian cobra is not only regarded as sacred in Hindu religion but also in Jainism and Buddhism.
Kerala is one of the places in India where snakes are most sacred and people have surname as Nair. The big King Cobra is the main deity of tribes in Kerala, Snake boat race or Vallamkalli is the major festival celebrated during the days in God's own country.
It is celebrated by worshipping snakes by offering milk in return for blessings. Special pujas are also conducted on the day for snakes. Sweets and flowers are also offered to serpents with special mantras being chanted. Snake deities and idols are also bathed in milk and worshipped on the day of Nag Panchami. The day is also known as Garuda Panchami in some places with people praying for eagles to protect them from snakes.
In South India, this day is celebrated to strengthen the bonds between the brother and sister. On this day as important ritual sisters rub milk or ghee on the back, spine, and navel of brothers by sisters.