GK Questions 10th July 2019 General Knowledge, Current Affairs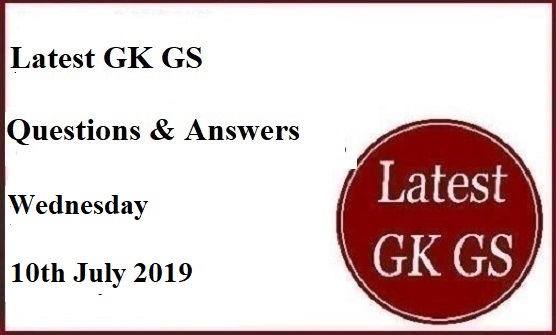 Daily GK Questions Wednesday 10th July 2019 General Knowledge, Current Affairs
1. Who was appointed as Head of Cricket at the National Cricket Academy (NCA)?
Ans:- Rahul Dravid
2. India and Myanmar bilateral meeting were conducted on which issue?
Ans:- Drug Trafficking

3. Delhi Police which operation rescued 333 missing children since January 2019?
4. Italy's which hills included on UNESCO World Heritage list?
5. DRDO carried out 3 tests of which missile in a single day in Pokhran?
6. Which Tennis women player was fined USD 10,000 for Damaging Wimbledon Court?

Ans:- Serena Williams

7. Which car company launched India's first fully electric SUV in New Delhi?
8. Which Bank recently announced to pull out of global equities sales and trading to scale back investment banking?
Ans:- Deutsche Bank

9. Which Indian Bollywood movie wins NETPAC Award for Best Asian Film at BIFAN?
Ans:- Gully Boy
9. Which helicopters arrived at the Mundra port in Gujarat for the Indian Air Force?
Ans:- Chinook
10. Prime Minister Modi recently unveiled the statue of former Prime Minister Lal Bahadur Shastri at which city?
Ans:- Varanasi
11. Which state government has announced for monthly Rs 10K allowance for Padma award winners facing the financial problem?
Ans:- Odisha Government