GK Questions 8th July 2019 General Knowledge, Current Affairs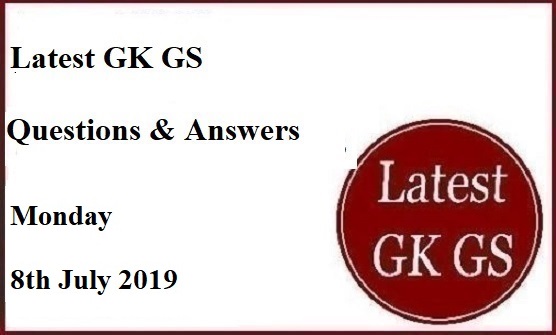 Daily GK Questions Monday 8th July 2019 General Knowledge, Current Affairs
1. All 22 Congress MLAs including Deputy CM of which state resigned on 8th July 2019?
Ans:- Karnataka
2. Who won Women's World Cup 2019 Finals Defeating Netherlands?
Ans:- USA

3. Indian BSF launched what operation to fortify Anti-Infiltration Grid along Pakistan border in Punjab and Jammu?
4. What is the name of the Haryanavi Dancer and Big Boss Contestant who joined BJP?
5. In Union Budget 2019 which type of farming proposal initiated to double farmers income by 2022?
Ans:- Zero Budget Farming

6. Which Pakistani Cricketer announces retirement from ODIs on 6th July 2019?

Ans:- Shoaib Malik

7. What is the title of the book that Vice President of India, M. Venkaiah Naidu released on 7th July 2019'?
8. As per Union Budget 2019, a new coin of which denomination to be introduced soon?
Ans:- Rs 20 coin

9. Which place of Iraq got listed as UNESCO's World Heritage Site?
Ans:- Babylon
9. When is International Day of Cooperatives celebrations held across the world?
Ans:- 6th July
10. Rajasthan's which city was added to UNESCO World Heritage List?
Ans:- Jaipur