Updated By: LatestGKGS Desk
GK Questions 17th July 2019 General Knowledge, Current Affairs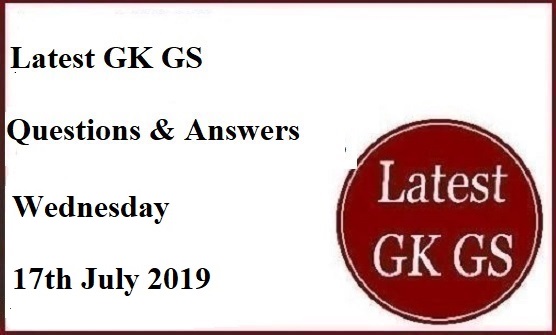 Daily GK Questions Wednesday 17th July 2019 General Knowledge, Current Affairs
1. When was Partial Lunar Eclipse 2019 Observed On?
2. Who was appointed as Governor of Andhra Pradesh?
Ans: Biswa Bhusan Harichandan

3. Who was appointed as Governor of Chhatisgarh?
Ans: Anusuiya Uikey
4. Who was appointed Governor of Gujarat?
Ans: Acharya Devvrat
5. World Youth Skills Day celebrated every year on which date?
Ans: 15th July

6. Senior BJP leader Kalraj Mishra has been appointed the governor of which state?
Ans: Himachal Pradesh

7. For Kartarpur corridor, Pakistan has agreed to allow visa-free travel for how many pilgrims per day?
Ans: 5000

8. NASA is commemorating the 50th launch anniversary of which history mission in July?
Ans: Apollo 11

9. Which country has opened its air-space for India after five months on 16th July 2019?
Ans: Pakistan

10. The first international flight from this Indian city took for Dubai on 15th July 2019?
Ans: Indore