Updated By: LatestGKGS Desk
GK Questions 16th July 2019 General Knowledge, Current Affairs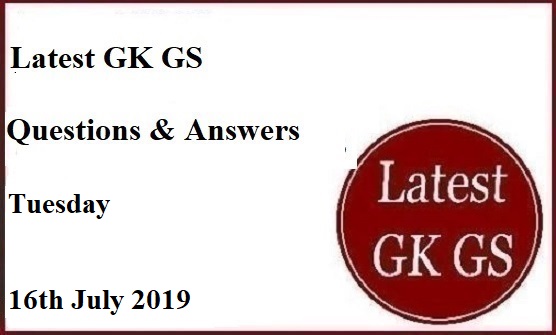 Daily GK Questions Tuesday 16th July 2019 General Knowledge, Current Affairs
1. Which country will host the ICC World Cup 2023?
Ans: India
2. Which state became the first to have the State Water Policy to conserve water?
Ans: Meghalaya

3. Which of following General Insurance Company will be merged with National Insurance Company Limited and United India Assurance Company Limited to create a single insurance entity?
Ans: Oriental India Insurance Company

4. Who was appointed Governor of Gujarat?
Ans: Acharya Devvrat
5. Which country won the ICC World Cup 2019 defeating New Zealand?
Ans: England

6. Senior BJP leader Kalraj Mishra has been appointed the governor of which state?
Ans: Himachal Pradesh

7. Which leg-spinner of Afghanistan has been appointed the new captain of the team in all three formats?
Ans: Rashid Khan

8. Which tennis player recently won the second Wimbledon title by defeating Roger Federer?
Ans: Novak Djokovic

9. In order to facilitate trade between Bhutan and which country India has set up a waterway in Brahmaputra River?
Ans: Bangladesh

10. Who has recently been appointed World Bank Managing Director (MD) and Chief Financial Officer (CFO)?
Ans: Anshula Kant