Updated By: LatestGKGS Desk
PM Narendra Modi At 74th UNGA Session Mentioned Tamil Poet Kaniyan Pungundranar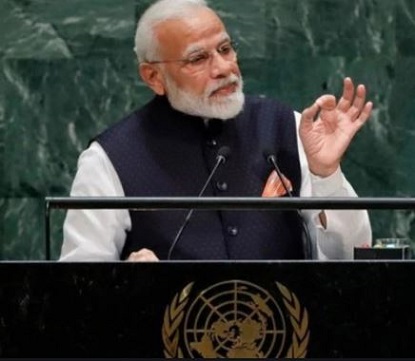 PM Narendra Modi At 74th UNGA Session Mentioned Tamil Poet Kaniyan Pungundranar

Prime Minister Narendra Modi while addressing at 74th session of United Nations General Assembly (UNGA) mentioned a famous Tamil poet and philosopher, Kaniyan Pungundranar in his speech.
Prime Minister Narendra Modi gave a message from the Indian side, through Kanyan's poem line 'Yadhum Ore Yavarum Kellir' which means having a sense of belonging for everyone.
This quote "Yaadhum Oore Yaavarum Kelir" is also at present depicted in the United Nations Organisation (UNO).

Kaniyan Pungundranar was an influential Tamil philosopher from the Sangam age about 3 thousand years ago. His name Kaniyan implies that he was an astronomer as it is a Tamil word referring to mathematics.
Kaniyan Pungundranar composed two poems in Puṟanāṉūṟu and Natrinai.
Kaniyan Pungundranar was born and brought up in Mahibalanpatti, a village in the state of Tamil Nadu, India.
Apart from this, PM Narendra Modi also recalled the quotes of Swami Vivekananda by giving the message of harmony and peace but no dissension which was once given by Swami Vivekanand at the World Parliament of Religion.
Latest United Nations General Assembly (UNGA) Updates