Former PM Manmohan Singh conferred with South Indian Education Society Award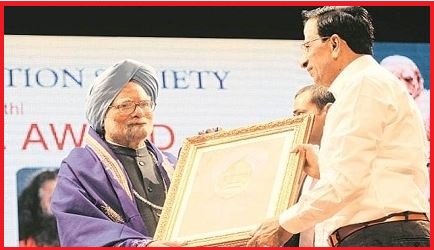 Former PM Manmohan Singh conferred with South Indian Education Society Award: Details, Achievement, Highlights
Former Prime Minister Dr. Manmohan Singh awarded the South Indian Education Society (SIES) Sri Chandrasekharendra Saraswati National Eminence Award as part of the Kanchi Mahaswami festival.
Manmohan Singh was awarded for his contribution to the field of public leadership.
Also, Professor Dr. Manjul Bhargava, Niti Aayog member Dr. V K Saraswat and Swami Chidanand Saraswati were awarded for their work in the fields of community leadership, science and technology, and social thinkers, respectively.
Japan-based philosopher and teacher of Hindu philosophy, Dr. Sengaku Mayeda, was conferred the award in-absentia in the international category.
Dr. Manmohan Singh (86 years old) is an Indian economist and politician who served at the various post in the Government of India. He held positions like RBI Governor in (1982-85, Planning Commission Chief in 1985-87, Finance Minister in 1991-96, and Prime Minister in 2004-2014.