Minister of Health & Family Welfare J P Nadda released National Health Profile-2018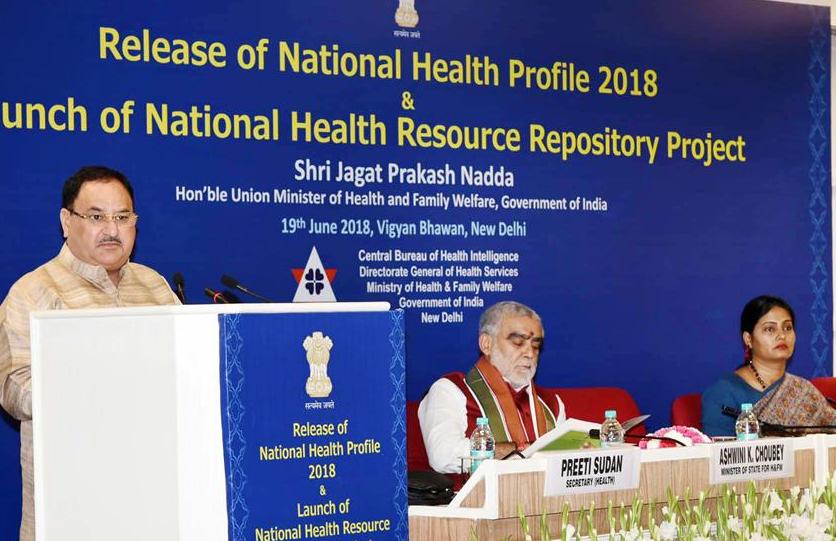 Central Bureau of Health Intelligence released an analytical report of National Health Profiles-2018
Union Health and Family Welfare Minister Ashwani Kumar Chaubey released an analytical report of National Health Profiles -2018 prepared by Central Bureau of Health Intelligence (CBHI) under the aegis of Directorate General of Health Services, Patna on October 13, 2018.
National Health Profiles include comprehensive information about human resources in health infrastructure and health, as well as demographic, socio-economic, health status and health finance indicators.
According to National Health Profiles- 2018, the percentage of respiratory diseases is the highest in the country, and the highest number of deaths due to infectious diseases is 23 percent.
Profiles show that it contributes 10 percent to total deaths due to diarrhea. Swine flu is a major cause of death due to infectious diseases in the country. Due to this, 16 percent of people are losing their lives. Acute encephalitis syndrome is causing 7% of deaths.
In addition, four percent of viral hepatitis death is occurring, while nine percent of deaths are due to other infectious diseases.
According to National Health Profiles- 2012, the expenditure on health in the health sector is going up in the last few years and now it has become 1.28 percent of GDP.
According to the report, the highest official allopathic doctor in the country is in UP.