Updated By: LatestGKGS Desk
Lakhwar project: CM Of Six States including Delhi Signed MoU to start Lakhwar Project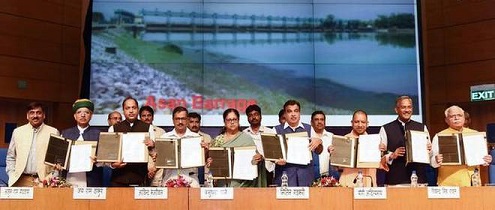 Lakhwar Dam project will now quench the thirst of six neighboring states including Delhi signed MoU: Details, Aim, Purpose, Benefits, Background
The Government of India is all set to create Lakhwar multi-purpose project on river Yamuna with the aim of reducing the water shortage in Delhi and adjoining areas and to increase irrigation facilities in the neighboring states.
In order to facilitate the initiation of the Lakhwar project, the Chief Ministers of the six states signed the MoU for this project on 28th August 2018.
The Lakhwar project will benefit all six states of drinking water, irrigation, and electricity.
The Lakhwar project will be built in the Upper Yamuna Basin area and it will cost Rs. 3966.51 crores.
A 204-meter high concrete dam will be built on Yamuna river near Lohari village of Dehradun district in Uttarakhand.
The water storage capacity of the dam will be 330.66 MCM (million cubic meters). This will allow 33,780 hectares of land to be irrigated and 78.83 MCM of water for domestic and industrial use and drinking can be made available. The project will also produce 300 MW of electricity.
For this Central Water Resources, River Development, and Ganga Conservation Minister Nitin Gadkari signed the memorandum of understanding (MoU) on 28th August 2018 with Chief Minister's of Uttarakhand, Uttar Pradesh, Himachal Pradesh, Rajasthan, Haryana, and Delhi.
Background
Earlier, the Lakhwar project had been approved 42 years ago, but the work could not be started till now. Now, for the first time, the consent of the scheme has been fulfilled after the permission of the respective States. The Lakhwad project was approved in 1976, but the project on this project was stopped in 1992.