Updated By: LatestGKGS Desk
National Poinsettia Day 12th December History, Significant in Christmas season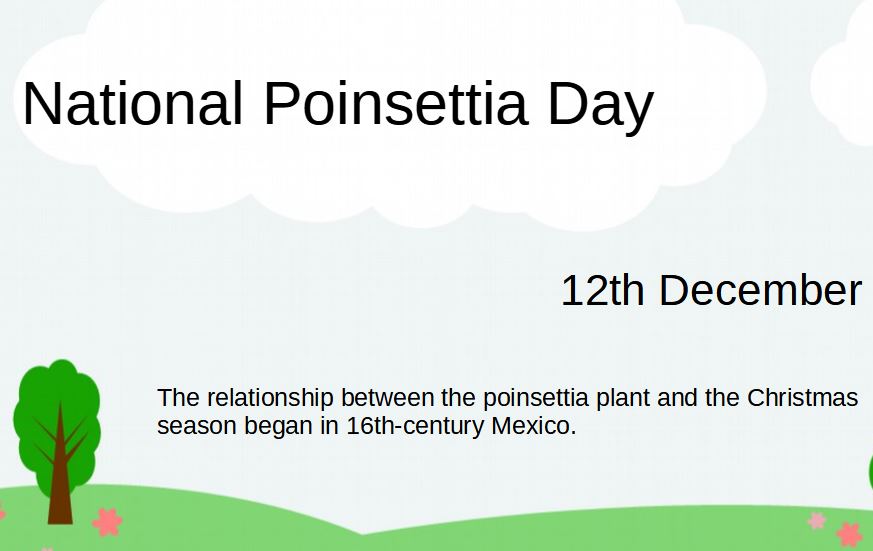 National Poinsettia Day 12th December: About, Details, History, Significant, Background
Every year on December 12th, people all throughout the United States commemorate National Poinsettia Day, which honours one of the most well-known Christmas plants.
The relationship between the poinsettia plant and the Christmas season began in 16th-century Mexico. A young girl, according to folklore, was desperate to celebrate Jesus' birthday. The girl was worried that she wouldn't be able to provide a present because she was so impoverished. An angel instructs her to give any gift she receives with kindness. The young girl gathered weeds from the side of the road and placed them in the manger. The weeds miraculously grew into gorgeous red stars.
Joel Roberts Poinsett, an American botanist and the first United States Minister to Mexico, brought the poinsettia to the United States. In 1825, he returned to Charleston, South Carolina, with cuttings.
However, the poinsettia did not become popular in American culture until the early 1920s. A second-generation California farmer, Paul Ecke, created a grafting technique that allowed seedlings to branch. Paul Ecke Jr. began selling the poinsettia at roadside booths and later improved sales through shipping and marketing.
How to observe National Poinsettia Day
Fill your home with the lovely poinsettia by visiting your local greenhouse or florist. Order one for a neighbour or coworker while you're there. Another method to CelebrateEveryDay is to make someone's day better. Don't forget to compliment the florist on their exceptional service. On social media, use the hashtag #NationalPoinsettiaDay.
History of the day
Poinsettia Day was established by the House of Representatives in 2002 to honour Paul Ecke, the father of the poinsettia business. Joel Roberts Poinsett, the man responsible for importing the plant to the United States, passed away on December 12th.