Updated By: LatestGKGS Desk
GK Question 22nd Oct 2018 Current Affairs, General Knowledge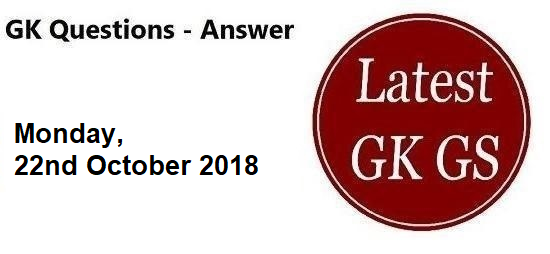 Daily GK Question Monday, 22nd October 2018 Current Affairs, General Knowledge
1. Which state of India has been granted the status of the first fully organic state of the world?
Ans:- Sikkim
2. Who has been awarded the award of India Social Enterprise of the Year?
Ans:- Prema Gopalan
3. On which day is the Women's Kisan Day celebrated every year in India?
Ans:- October 15th
4. For the first time, the three armies of India and which country will be organized in India in 2019?
Ans:- America
5. Which state government recently launched the CM Urban Leaders Fellowship Program?
Ans:- Government of Delhi
6. Who has been awarded the US President Medal?
Ans:- Minal Patel
7. Which of the following has been made of mascot for the Men's Hockey World Cup 2018?
Ans:- Olly Turtle
8. Who won the 'New Academy Award' among the following on the Nobel Prize in Literature?
Ans:- Marissa Condé.
9. North Korea and which country have agreed to start its new project from November or December 2018 to connect rail and road between its borders?
Ans:- South Korea
10. Which country has set up a committee to formulate a strategy to help businesses invest more in India?
Ans:- Sri Lanka