Updated By: LatestGKGS Desk
GK Questions 25th Oct 2018 General Knowledge, Current Affairs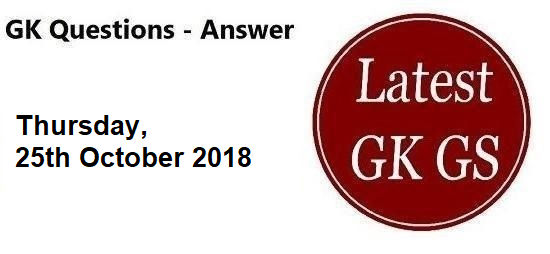 Daily GK Questions 25th October 2018 General Knowledge, Current Affairs
1. Which leader has been selected for the year 2018 Seoul Peace Prize?
Ans:- Narendra Modi
2. The Central Government has decided to increase the travel allowance of the Asha Worker by increasing its allowance from Rs 5000 to encourage public health insurance scheme, Ayushman India?
Ans:- 6,000
3. Which country has recently agreed to help Pakistan $ 300 million?
Ans:- Saudi Arabia
4. India, Afghanistan and which country did their first tripartite talks on the Chabahar port project on October 23, 2018?
Ans:- Iran
5. India and which country signed the agreement for the operation of the Sepetta port?
Ans:- Myanmar
6. The Supreme Court on 24th October 2018 clarified that from which year will the sale of India Stage-4 (BS-4) category vehicles in the country?
Ans:- One of April 2020
7. Recently, the report released by the Which International Association said that privatization is not beneficial for human rights?
Ans:- United Nations
8. On which occasion recently, in order to give a message of female dignity, 3000 women in India folk dance together in traditional clothes?
Ans:- Kullu dashehra
9. The joint bilateral military training exercise 'Druzba III' has started between Pakistan and which country?
Ans:- Russia
10. The government has approved the formation of a Joint Working Group (JWG) between India and what country on FINTECH?
Ans:- Singapore