GK Question Tue, 23rd Oct 2018 Current Affairs, General Knowledge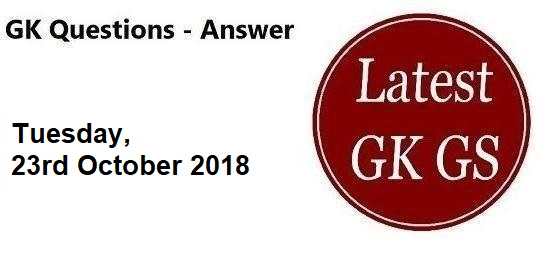 Daily GK Question Tuesday, 23rd October 2018 Current Affairs, General Knowledge
1. What is the name of the country's first Domestic cruise started between Mumbai and Mumbai
Ans:- Angria
2. Which institution has recently been developed 'water purification system' onyer?
Ans:- CSIR
3. At which place was the Prime Minister Narendra Modi inaugurated the National Police Memorial recently?
Ans:- New Delhi
4. From which country has India imposed anti-dumping duty on selected varieties of imported steel for $ 5.85 per tonne for five years?
Ans:- China
5. medal in women's singles event at the Denmark Open Badminton tournament on 21 October 2018?
Ans:- Saina Nehwal
6.America and which country have agreed to include Japan in bilateral air exercise "Cope India"?
Ans:- India
7. On which place was the death of more than 60 people due to the train climbing people watching Dussehra?
Ans:- Amritsar
8. With which country has President Donald Trump announced the end of the decades-old Intermediate-Range Nuclear Forces (INF) treaty?
Ans:- Russia
9. Recently, which country was announced to launch the artificial moon with the aim of reducing power consumption?
Ans:- China
10. Union Health Minister JP Nadda recently clarified that within a month of launch, which scheme has taken advantage of more than one lakh people?
Ans:- Ayushman Bharat Yojna