GK Question 26th Oct 2018 General Knowledge, Current Affairs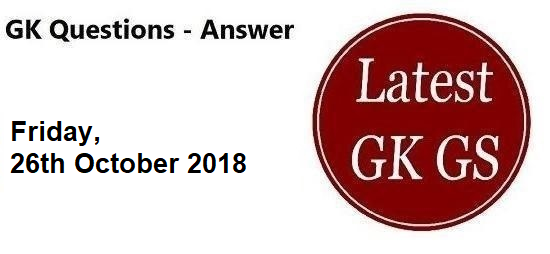 Daily GK Question 26th October 2018 General Knowledge, Current Affairs
1. In the case of Punjab National Bank scam accused Nirav Modi, the Enforcement Directorate has seized assets worth Rs 255 crore in which country?
Ans:- Singapore
2. The Cabinet has approved the formation of which authority to expedite the disposal of benami transaction cases?
Ans:- Appellate Tribunal and Judging Authority
3. With which country India has recently signed an agreement to purchase defence system for $ 77.7 million?
Ans:- Israel
4. Which captain of the Indian Cricket Team has become the fastest batsman to score 10,000 runs in ODI cricket?
Ans:- Virat Kohli
5. Adel Abdul Mehdi took oath as the new Prime Minister of which country?
Ans:- Iraq
6. On which day is United Nations Day celebrated as?
Ans:- October 24th
7. Recently, the precious necklace of Maharani Jindan Kaur was auctioned in 187,000 pounds. Was the wife of which Indian king?
Ans:- Maharaja Ranjit Singh
8. Saudi Arabia has agreed to help millions of dollars to get rid of the balance of payments crisis to Pakistan, which is facing a financial crisis?
Ans:- 300 million dollars
9. Union Cabinet has approved the broad gauge rail line between Bahraich and Khalilabad of which state?
Ans:- Uttar Pradesh
10. The Supreme Court has decided to ban the sale and registration of vehicles of which category from April 2020?
Ans:- BS-4