GK Questions 18th June 2019 General Knowledge, Current Affairs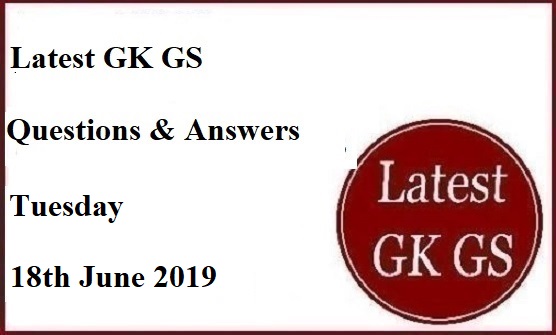 Daily GK Questions Tuesday 18th June 2019 General Knowledge, Current Affairs
1. Who has become the fastest batsman to score 11,000 runs in ODIs?
Ans:- Virat Kohli
2. When is Sustainable Gastronomy Day Observed?
Ans:- 18th June
3. Which Senior BJP leader appointed as Bhartiya Janta Party's working President?
Ans:- J P Nadda
4. Recently, India and Myanmar Armies conducted which operation in North East Borders?
Ans:- Operation Sunrise 2
5. Who has taken oath as pro-tem Speaker of Lok Sabha?
Ans:- Virendra Kumar

6. Where will be World Food India to held from 1st November 2019?

Ans:- New Delhi

7. Which country is hosting Intersessional meeting of Kimberley Process 2019 from 17th to 21st June 2019?
Ans:- India

8. Indian Navy to get which heavyweight torpedo?
Ans:- Torpedo Varunastra

9. Which Indian state Cabinet approves the proposal to punish children who abandon their elderly parents?
Ans:- Bihar

10. When is Father's Day 2019 Celebrations Held?
Ans:- 16th June 2019
11. Who is the winner of Femina Miss India 2019 and from which state?
Ans:- Suman Rao from Rajasthan
12. When is World Day to Combat Desertification and Drought Observed?
Ans:- 17th June

13. Which city hosted the FBB Femina Miss India 2019 Pageant?
Ans:- Mumbai