Updated By: LatestGKGS Desk
UNESCO World Heritage Sites : Criteria and listing Steps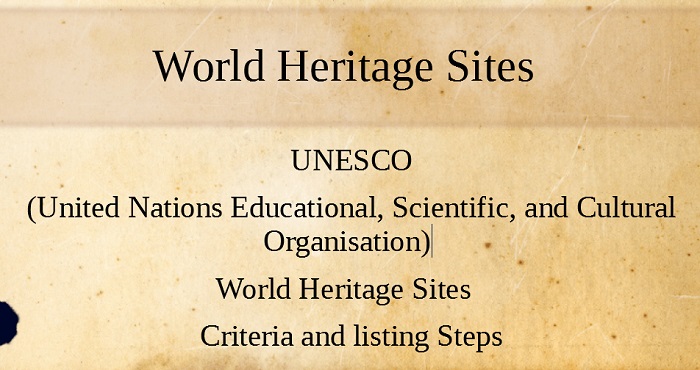 What is the Process of listing any place as World Heritage Site and What are the criteria for World Heritage Sites?
UNESCO (United Nations Educational, Scientific, and Cultural Organisation) the assigning authority of the World Heritage site, have some Defined Rules for any place to be a World Heritage also there are some steps that will have to be followed in this process.
Following are the defined steps by UNSECO:-
First of all, The Government of that country should have assigned a specific department or authorities that can list all sites and Fill the Nomination of that site on behalf of the Government.
There is a Specific word to value the site that is Outstanding Universal Value (OUV) for the Nominations of the site.
There are some criteria on which these Outstanding Universal Value (OUV) get determined.
The site should follow at least one criterion of OUV to be Nominated.
Then the

International

Monuments

and

Sites

Council

and

the

World

Conservation

Union assess the Nomination.

Then once per year on behalf of recommendations of this council, The committee Decides any site to whether or not to be World Heritage site
Criteria To Evaluate Outstanding Universal Value of any site:-
World Heritage Organization Evaluate any place like Monument on behalf of Cultural or Natural Specialty.
Organization follow the following Ten Points criteria:-
A masterpiece Depicting Human Creative Geniuses

Exhibiting a significant exchange of human values, over time, or in a worldwide cultural environment, regarding architecture or technical growth, monumental arts, urban planning, or landscape creation.

Witnessing A Rare of Uncommon Cultural or Traditional impressions of any living or diminished civilization.

Representing an

excellent

demonstration

of

the

house,

architecture,

or

technology

or

landscape

form,

which

shows

(a)

significant

historical

phases.

Unique and Outstanding Human use of Land, Sea Which is cultural Representative, or human interaction in with the environment in an irreversible change.

The

artists'

works

of

outstanding

universal

importance,

directly

or

tangibly

related

to

life

events

or

traditions,

ideas,

and

creeds.

(The

Committee

believes

that

it

is

preferable to

use

this

criterion

in

combination

with

other

criteria).

contain splendid natural phenomena or places of outstanding natural beauty and elegance

Exceptional examples of important earth history phases, including histories of life, ongoing geological processes in landform creation, or important geomorphic or physiographic characteristics.

Excellent examples of important ecological and biotechnological processes in creating and developing soil, freshwater, marine and coastal habitats, and plant and animal populations.

Involve, in the field of biological diversity, the most significant, important natural habitats, including those containing endangered species of outstanding scientifically or conservatory importance
Latest Unesco Updates