Updated By: LatestGKGS Desk
UNESCO: World Heritage Site types and Assigning Authority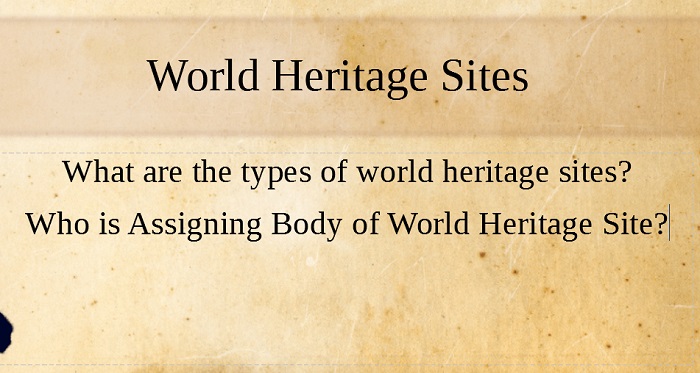 What are The World Heritage sites and their types? Who is Assigning Body in the world?
World Heritage sites are any type of place which have some special value or importance by Culture or by Nature.
These Sites Can be any Place on the planet earth with distinct and important value irrespective of whether they are a Building, Monuments, Place, A river, Forest, Lake, Cave, Any Mountain, or other places.
Places with special values are assigned as a World Heritage site by some measures. After getting Fulfillment of Measures It gets Listed as a World Heritage Site.
Assigning Authority For World Heritages:-
There Is an international organization named United Nations Educational, Scientific, and Cultural Organization (UNESCO), Listing all Sites as a World Heritage Site.
Any site to be a World Heritage Sites should follow some specific norms to qualify as a World Heritage site that is Decided by UNESCO. UNESCO looks for any site to have some Special Cultural or Natural distinction and value.