GK Questions 9th August 2019 General Knowledge, Current Affairs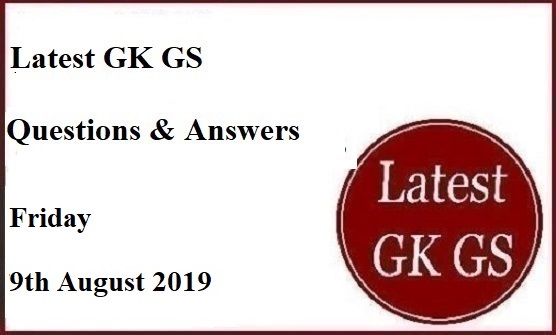 Daily GK Questions Friday 9th August 2019 General Knowledge, Current Affairs
1. Who will be awarded Vir Chakra in 2019?
Ans. IAF Wing Commander Abhinandan Varthaman
2. Saudi Arabia has de-recognized which nation's PG medical programs?
3. Which state government has approved the "Mukhya Mantri Be-Sahara Gau-Vansh Sahbhagita Yojana"?
4. Pakistan has permanently stopped which train's services to India?
Ans: Samjhauta Express

5. Which Indian freedom struggle movement completed 77 years on 8th August 2019?
Ans: Quit India Movement

6. Which personalities were awarded India's highest civilian award, Bharat Ratna?
Ans: Former President Pranab Mukherjee, Assamese singer-composer Late Bhupen Hazarika, and social activist Late Nanaji Deshmukh

7. Which state has extended its existing MoU with the Netherlands for cooperation in several fields by another five years?
Ans: Uttar Pradesh
8. The US has approved the sale of 12 multi-mission Seahawk helicopters to which among the following countries?
Ans: South Korea
9. The United States has formalized ban on government contracts to which Chinese company?
Ans: Huawei
10. Which among the following countries recently allowed women to travel abroad without approval from a male guardian?
Ans: Saudi Arabia
11. Which South Africam men Cricket Player announced retirement from all formats of cricket?
Ans: Hashim Amla