Updated By: LatestGKGS Desk
IAF Wing Commander Abhinandan Varthaman To Recieve Vir Chakra Medal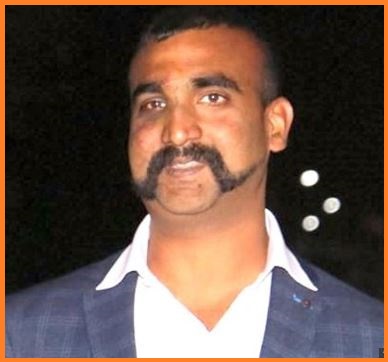 IAF Wing Commander Abhinandan Varthaman To Recieve Vir Chakra Medal: Profile, Achievements
Indian Air Force (IAF) Wing Commander Abhinandan Varthaman, will be awarded a Vir Chakra Medal for his gallantry bravery.
With this, Mirage-2000 fighter jet pilots who dropped bombs on the terror facility of the Jaish-e-Mohammed will also get the Vayu Sena Medal for gallantry.
Achievements
IAF pilot Wing Commander Abhinandan Varthaman shot down Pakistan's F-16 combat jet during an aerial dogfight on 27th February 2019.
Abhinandan Varthaman (36-years-old) was captured by the Pakistani army, tortured and then released on 1st march 2019 after implementing Jneva convection.
Abhinandan Varthaman chased down Pakistani F-16 jet and ultimately shot it down and all it happened in just 90 seconds.
Abhinandan Varthaman Mig-21 Bison was also hit by a missile forced him to eject. It was the first time in history when an F-16 was shot down by Mig-21.
Vir Chakra
Vir Chakra is third-highest wartime gallantry award of India after the Param Vir Chakra and Maha Vir Chakra.
Vir Chakra is awarded for acts of bravery on the battlefield.
Vir Chakra is a circular silver medal.
Vir Chakra carries an engraved image of a five-pointed star, with the chakra in the center and domed gilded state emblem. It was established on 26th January 1950, with effect from 15 August 1947.