GK Questions 10th August 2019 General Knowledge, Current Affairs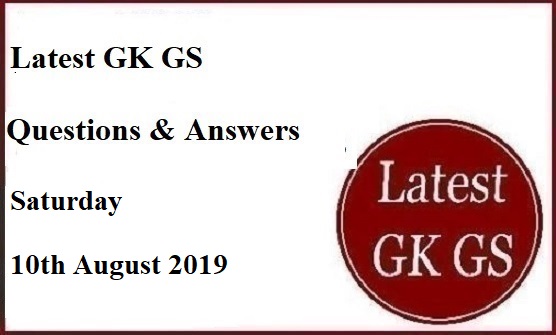 Daily GK Questions Saturday 10th August 2019 General Knowledge, Current Affairs
1. Which film won Best Hindi Film award in the 66th National Film Awards?
Ans. Andhadhun
2. Which Ministry launched the Samagra Shiksha-Jal Suraksha drive recently?
Ans: Ministry of Human Resource Development

3. World Archery suspended the Archery Association of which among the following countries?
4. Pakistan has permanently stopped which train's services to India after stopping Samjhauta Express?
5. Which South African cricketer announced his retirement from all forms of international cricket on August 8, 2019?
Ans: Hashim Amla

6. Which personalities were awarded India's highest civilian award, Bharat Ratna?
Ans: Former President Pranab Mukherjee, Assamese singer-composer Late Bhupen Hazarika, and social activist Late Nanaji Deshmukh

7. Which Minister launched the electronic version of Rozgar Samachar?
Ans: Prakash Javedekar
8. Which Indian state topped the Breastfeeding, Infant & Young Child Feeding Practices in India?
Ans: Manipur
9. India recently signed which international convention on mediation??
Ans: United Nations Convention on International Settlement Agreements (UNISA)
10. Which Indian freedom struggle movement completed 77 years on 8th August 2019?
Ans: Quit India Movement