Updated By: LatestGKGS Desk
Indian writer Annie Zaidi is winner of Nine Dots Prize 2019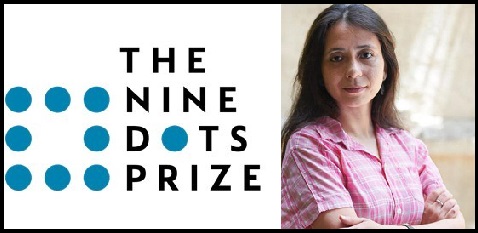 Indian writer Annie Zaidi is the winner of Nine Dots Prize 2019: Details, Achievements, Highlights
Annie Zaidi, an English-language Indian writer was named as the winner of Nine Dots Prize 2019.
Annie Zaidi (41-years-old) born in Allahabad but currently based in Mumbai is an English language freelance writer.
Annie Zaidi won Nine Dots Prize for her entry titled 'Bread, Cement, Cactus'. It was a combining memoir and reportage which explores concepts of home and the belonging rooted in her experience of contemporary life in India.
Annie Zaidi wrote a collection of essays like Known Turf: Bantering with Bandits, Other True Tale, poetry's like Crush, 2007, short stories The Good Indian Girl 2011, etc.
Annie Zaidi was earlier awarded The Hindu Playwright Award in the year 2018.
The Nine Dots Prize
The name of this global book prize is in reference to the 'nine dots puzzle' which is a lateral thinking puzzle that can only be solved by thinking outside the box.
The Nine Dots Prize aims to promote, engage and encourage innovative thinking so as to address problems facing the modern world. The prestigious book prize is awarded for creative thinking that tackles contemporary societal issues.
Selection Criteria: Entrants are asked to answer the given question in 3,000 words.
Eligibility: All entrants with minimum 18 years of age and over are welcome to enter but responses and the resulting book must be in English.
Cash Prize: The winner receives US$100,000 to write a short book expanding on their ideas. The Prize is sponsored by the Kadas Prize Foundation with support from the Centre for Research in the Arts, Social Sciences and Humanities (CRASSH) at the University of Cambridge and Cambridge University Press.