India's 1st female blind chess player Vaishali N Salavkar at World Chess Olympiad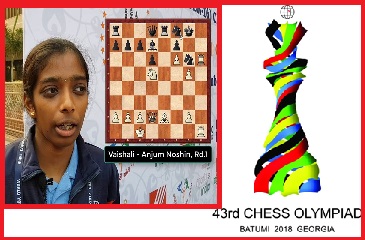 Vaishali Narendra Salavkar will be India's first female blind chess player at World Chess Olympiad: Details, Highlights
Indian bind chess player Vaishali Narendra Salavkar will become the first Indian female to be part of the International Braille Chess Association (IBCA) team at the world chess Olympiad that will be held in Batumi, Georgia.
The World Chess Olympiad is scheduled to be held from 23rd September 2018 to 7th October 2018
IBCA which is affiliated to FIDE (World Chess Federation) sends its teams to participate at the chess Olympiad.
Vaishali Narendra Salavkar is 45 years old, hails from Maharashtra. She is an eight-time national champion. She has an Elo rating of 1,357 points.
A total of 7 Indian women chess players are participating in the world chess Olympiad.
Malika Handa is participating as part of the International Chess Committee of Deaf (ICCD) team.
Normal women's team players participating in the Olympiad are Koneru Humpy, Harika Dronavalli, Tania Sachdev, Karavade Esha, and Padmini Rout.
About International Braille Chess Association (IBCA)
Founded: 1958
Headquarters: Homberg, Germany
President: Jadhav Charudatta
Type: An apex body of chess for the blind and visually impaired